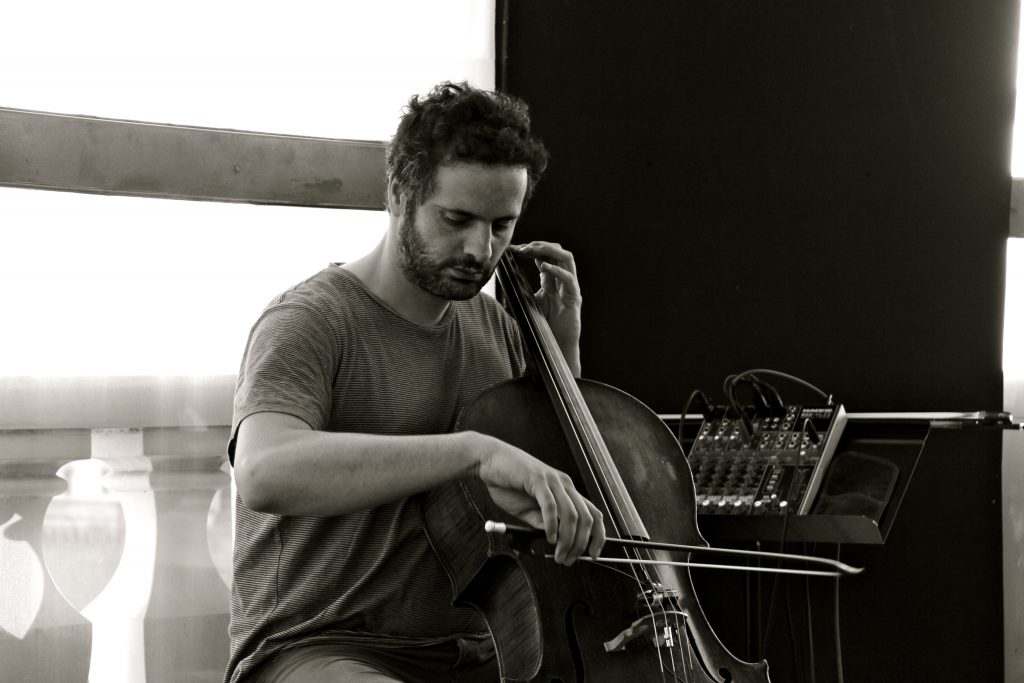 Benjamin Jarry, cellist, composer
Benjamin Jarry first established his musical career playing the bass guitar in post-rock bands (Moesgaard, Puanteur Crack) and started learning the cello at 22. He then moved on to study the cello (modern, and then baroque, with Marion Middenway) and musical composition with Franck Lagarde in Nantes in 2010. Ever since, he has been continuously mixing these various influences into his music and has collaborated with artists and bands such as Matt Elliot, Mermonte, Marc Morvan or the Ensemble Minisym, dedicated to promoting Moondog's music.
In the meantime, he is involved in a whole range of cross-artistic propositions: improvisation with the visual artist Carole Douillard or graphic score interpretations (Phil Niblock, Christian Wolff, AMM) with Apo 33. He also creates concert film performances and collaborates with contemporary theatre companies (Rictus, Möbius-Band): all these collaborations shape his rapport to music in a more visual and narrative approach.
Building on these numerous experiences, Benjamin Jarry starts to compose hybrid works, between pop chamber music and minimalism, reminiscent of Steve Reich's and Michael Nyman's repetitive music, as well as Julia Kent's and Sonic Youth's pop aesthetics. His first solo for cello and electronic devices, Splendid Isolation, was released on the Drone Sweet Drone label in 2012.
In 2015, he began working on his piece for piano, clarinet and two cellos: Double Bind, which led to the setting up of Le Faux Ensemble to record and perform it live. Its composition process, while being based on repetition, brings together a great variety of motifs and bifurcations, creating music which is both ostensibly complex and surprisingly accessible. Double Bind was released in 2018 on the Dissociation label.
Since 2018 he developed a new creation, far more radical and stripped-down, entitled OUT OF SIGHT resulting from a 2015 collaboration with the visual artist Carole Douillard. Written for cello and a stroboscopic device, this hypnotic piece combines a way of playing characterised by a minimalistic engine-like throb with acoustic morphing effects, inspired by the droning music of composers like John Cale and Charlemagne Palestine.
Benjamin Jarry is now currently working on an octet for cello dedicated to play on stage his piece composed during the containment, intitled CRES.